COSHH is an important part of health and safety within the workplace. While you may not know what it is exactly, you will have seen the signs around in certain areas of the workplace. Here is our guide to COSHH to support in running your operations safely and efficiently.
What is COSHH?
COSHH is the Control of Substances Hazardous to Health which is the law that requires all employers to control these substances. Under the COSHH Health Regulations 2002, employers have to prevent, reduce and control exposure to substances that are deemed hazardous, to prevent employees and contractors from becoming ill.
Most workplaces now use substances that could cause harm to others. With thousands of workers in the UK being made ill by hazardous substances, it is vital for these hazardous and health regulations to be in place.
Hazardous substances can come in various forms:
Biological Agents
Chemicals
Dusts
Fibres
Fumes
Gases
Nano-particles
Diseases such as lung disease, cancer and skin diseases can be contracted through hazardous substances. By following the regulations, a company can save money by not having to replace trained workers, improve production and cut waste. Healthy workers will lead to healthy products.
COSHH Symbols
This is an example of a COSHH Hazard Symbols Poster that educates all staff on symbols they are likely to see around the workplace.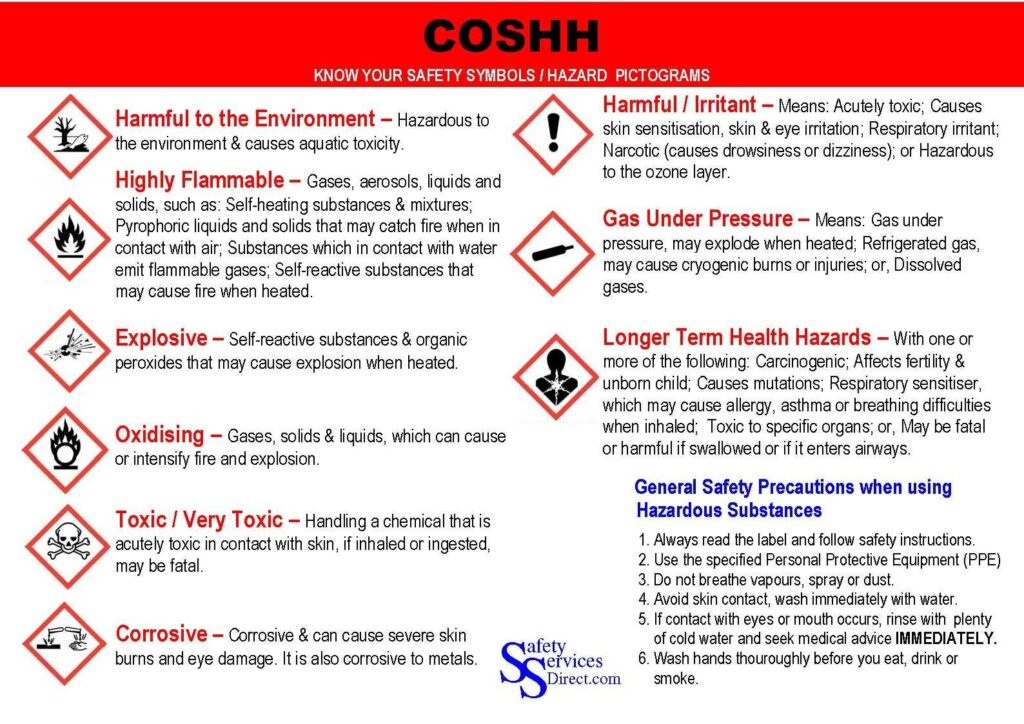 Exposure to Hazardous Substances
Exposure to hazardous chemicals can be found in numerous spots including quarries, metal finishers and factories specialising in woodworking. If not adequately controlled, works in these professionals are at a high risk of lung disease. Illnesses such as asthma, dermatitis and cancer have been linked to exposure in the construction, metals and wet working industries.
Glue, paint, ink, beauty products and detergent can be harmful when not used properly. Benzene found in crude oil is even known to cause leukaemia. As long as substances are used appropriately, no harm should come to any worker.
Flammable substances can cause other issues of concern. Solvent-based products are known for giving off a flammable vapour. Even clouds of dust from flour or wood can explode if ignited.
Each substance must be looked at individually and evaluated in how they might be harmful to workers. This can be done by:
Check all information that is with the product
Ask your trade association or suppliers
Get in touch with a hygiene consultant
Find health and safety information in the trade press
As an employer, a risk assessment must be put in place. If the substance they use is harmful, how might your staff be exposed by the substance? Could they breathe in gases, mist, dust or fumes? Will their skin come into contact with it? Is there a chance they could swallow the substance? Could it come into contact with their eyes?
Inhalation Exposure
If a harmful substance is inhaled, it can attack the nose, throat or lungs. Some substances will enter through the lungs and harm other areas such as the liver.
Skin Contact Exposure
Substances can damage a person's skin or pass through and damage other parts of the body. Skin will get contaminated through direct contact, splashing, dust in the air or coming into contact with contaminated surfaces – this can even include the inside of protective gloves.
Other Exposure Avenues
If hands aren't washed, then chemicals can get to their mouths after the handling of substances. This can easily be done during lunch breaks via eating or smoking. Dust, gas and vapours have the potential to cause irritation to eyes. Splashes from caustic fluid have caused permanent eye damage.
COSHH Regulations
For employers to comply with regulations, you must assess the risks to health that arise from hazardous substances created during work tasks. It then must be decided what precautions are needed to prevent or control exposure.
A hierarchy of control measures have to be followed to ensure the right protection is in place. Employers should look to avoid using or creating hazardous substances during an activity, or put a safer alternative in place. It is not always possible to prevent such substances from being used, so methods such as enclosure and ventilation should be used to avoid exposure. The last line of defence against harmful substances is Personal Protective Equipment (PPE).
Employers must then make sure control measures are used and maintained effectively. If necessary, a Monitoring of Exposure and Health Surveillance should be provided. Employees must be trained, informed and supervised properly – having Health and Safety Executive (HSE) safety data sheets on file is not enough to comply.
COSHH Procedures
There are eight steps you need to follow in COSHH Assessment Procedures:
Risk Assessment
Decide Precautions That Need To Be Put In Place
Prevent or Control Adequately Exposure
Ensure Control Measures Are Used And Maintained
Exposure Monitoring
Carry Out Appropriate Health Surveillance
Put a Plan in Place For Accidents and Emergencies
Ensure Employees Are Informed, Trained and Supervised
COSHH Training Course Online
Safety Services Direct offer an online COSHH Training Course that provides a detailed overview of what hazardous substances are and how all employees can work safely with them. It is perfect for workers in various industries including; catering, cleaning, engineering, manufacturing, hairdressing, beauty and building. This low cost, high quality training is cost effective to you, gives you a downloadable certificate and can be completed at any time.
Contact Safety Services Direct today for more information or order your COSHH Training course today.