SafeContractor Support Package
SafeContractor Support Package
To request a callback, please fill in the form below
SafeContractor Support Package
SafeContractor is a highly respected assessment scheme within the construction industry. It supports contractors to successfully show to prospective clients that they are meeting health and safety standards and regulations set out by SafeContractor.
The SSIP accreditation can be obtained by completing an online assessment application which will be valid for twelve months. This will enable you to easily prove you have been thoroughly audited, which in turn will make you an appealing contractor to work with.
The road to gaining your SSIP accreditation can be long and tedious, and at the end of the process, you're not guaranteed to achieve your accreditation certificate.
Our goal is to simplify the process for you with our new support package, which includes ongoing competent Health and Safety advice and support (as required by Law) to help you breeze through your assessment and gain your accreditation so you can get back to business.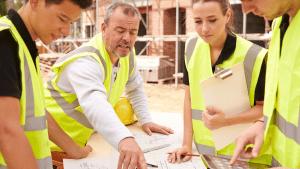 Our SafeContractor Support Package
Our support package includes:
Full support to help you successfully obtain your SafeContractor accreditation certificate.
Access to our health and safety advisory services to help you meet legal requirements, such as ensuring you have a competent person on the premises.
Unlimited advice from your competent health and safety advisor, who will be available by phone or email 9-5 every day. You will be granted a priority email address, which normally prompts a response to any enquiries within 4 working hours, though you may receive a response right away.
Annual review of your Health and Safety policy, provided it has been written or provided by us to ensure it is up to date, completely free of charge.
Use of the Safety Services Direct Ltd name and the CV of your assigned consultant, along with a SAS contract. The use of our name will enable you to prove you have an appointed competent person who will support your tendering processes.
Assistance in reporting incidents to enforcement agencies such as the HSE. We will help you prepare and file any required reports when needed.
Free Health and Safety Law Poster to display on your premises.
Monthly Safety Matters e-bulletin to keep you informed on any cases, regulations updates or changes, and all things regarding health and safety. When you purchase SAS, you will be opted into our mailing list to receive our newsletter every month.
For more information, please call us on 0121 756 1713.
Free Client Portal
When purchasing your SafeContractor Support SSIP, you will also receive access to a bespoke online portal where all your certifications, RAMS and training documentation will be held. Giving you ease of access whether you are on-site or within the office.  This portal is Free of Charge to all our SSIP Clients.